Published on magazines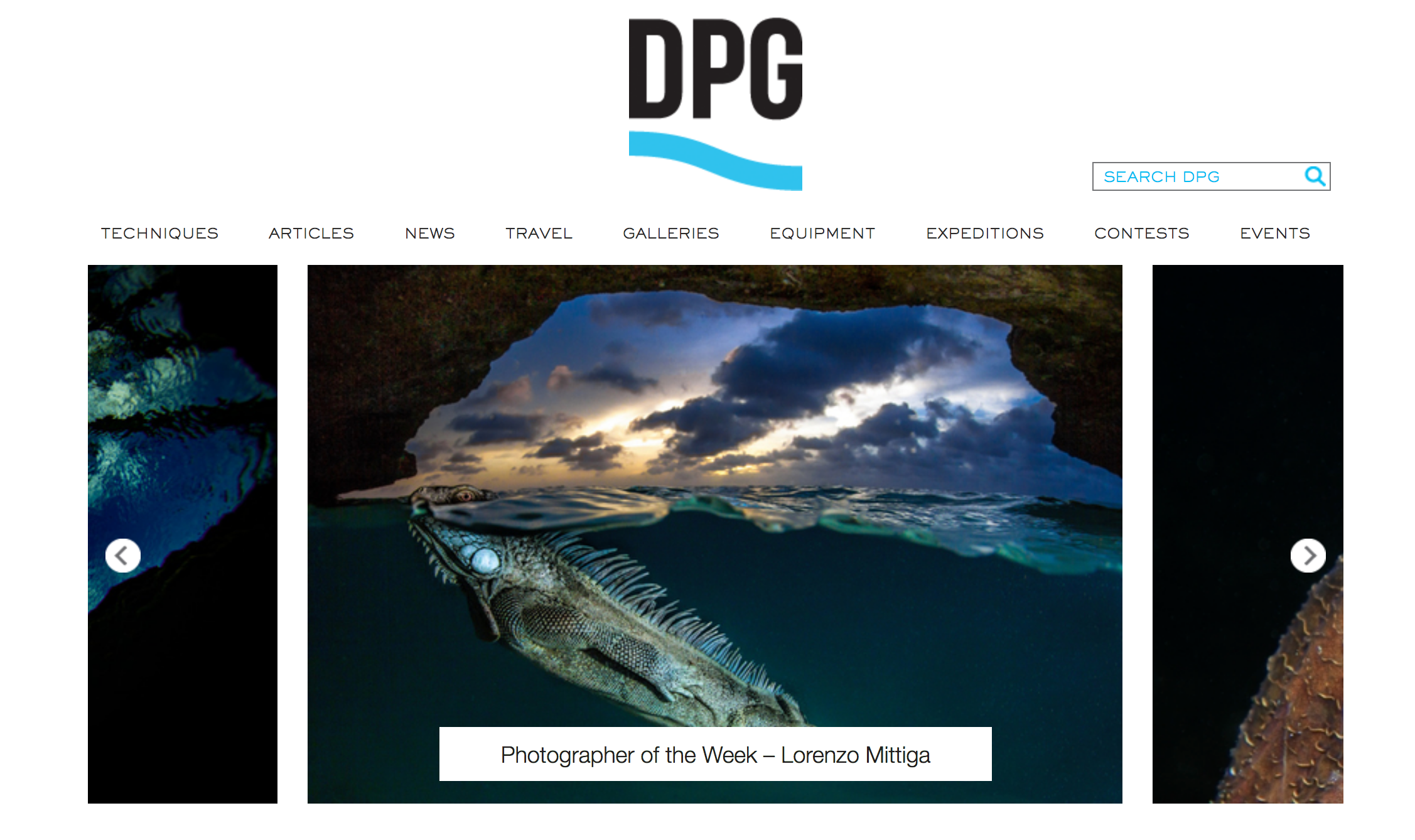 Photographer of the Week DPG
Photographer of the Week – Lorenzo Mittiga
Every wildlife photographer approaches their subjects with a certain frame of mind, be it for efforts of conservation, love of nature or documentary purposes. Within each approach comes a style that is developed that makes their images uniquely their own. But for certain photographers, they seek to evoke an almost poetic, philosophical creation of a feeling that they garner from the experience. In short, they see their image-making as an art form just like painting or sculpture. Since its inception, photography has been debated as a legitimate art, and though that is often a tiresome conversation, there are certain shooters whose artistic integrity is not in question, such as Photographer of the Week, Lorenzo Mittiga.
Lorenzo is clearly a meticulous executor of his craft. Focusing on capturing that moment when time, space and subject synthesize into a compositional cohesion, he prides himself on creating visually melodic expressions of instances captured. For him it is not merely about the subject, but about the entirety of what is encompassed in his frame. And in his split shots in particular, the drama of his vision comes together in the portrayal of two worlds seemingly unattached and unknowing of one another.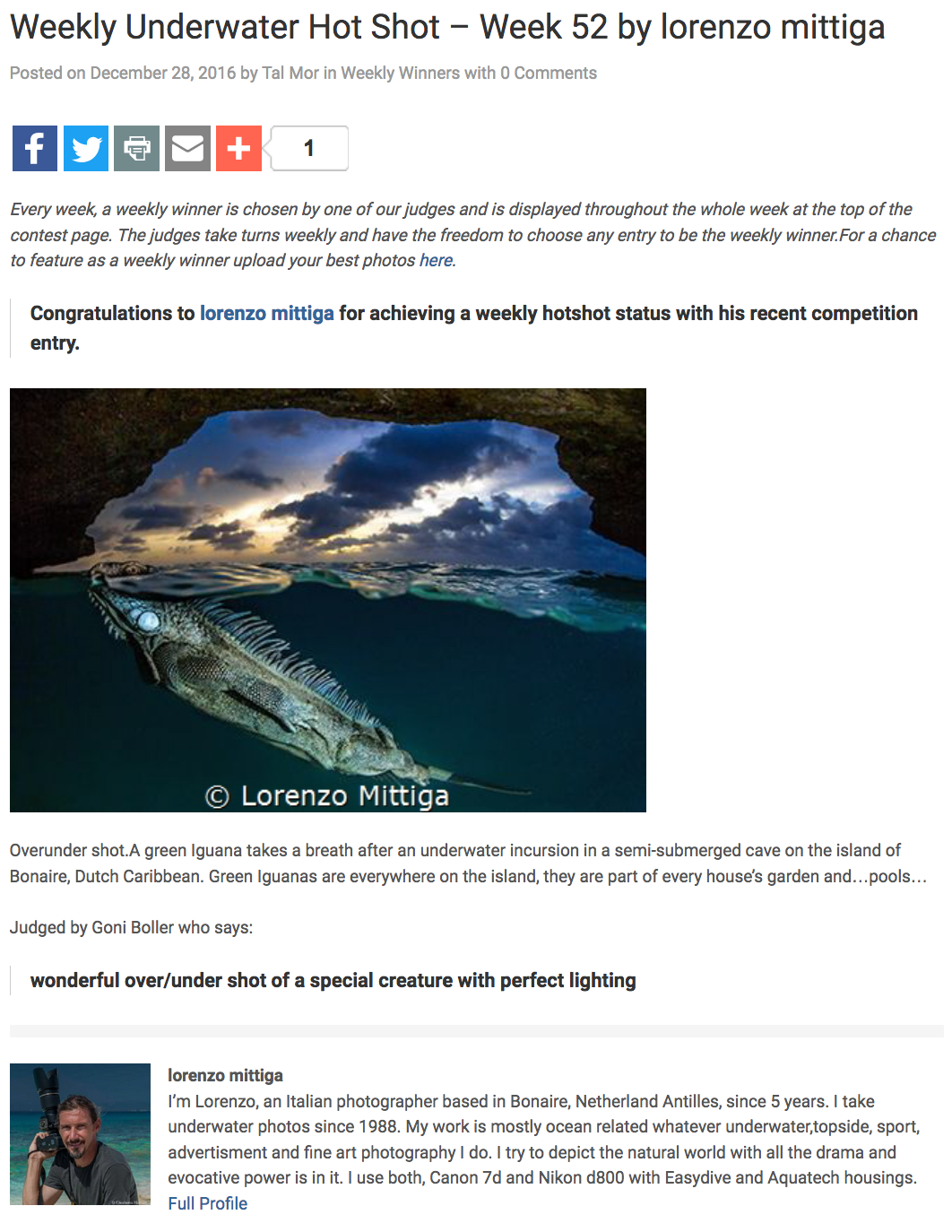 Underwater Photography 52nd week 2016 Winner!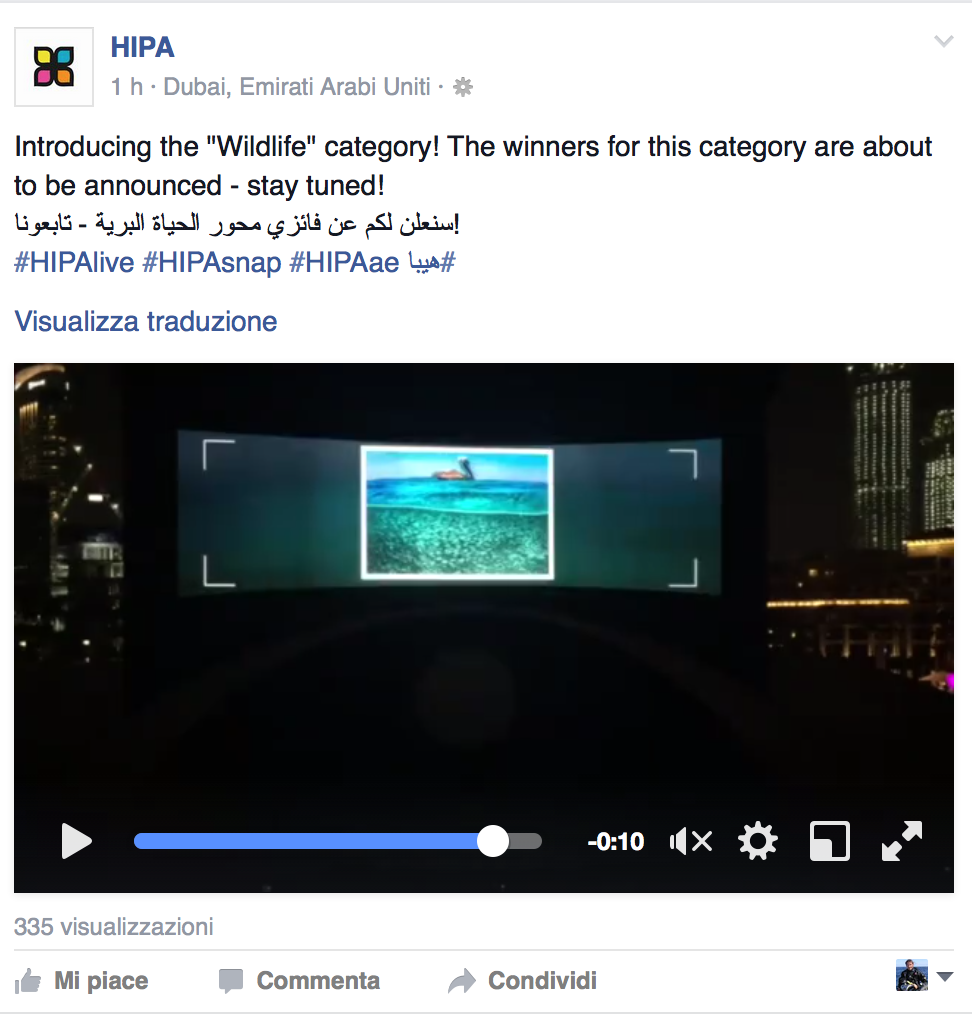 HIPA Photo Contest
HIPA 2015 Photo Contest Finalist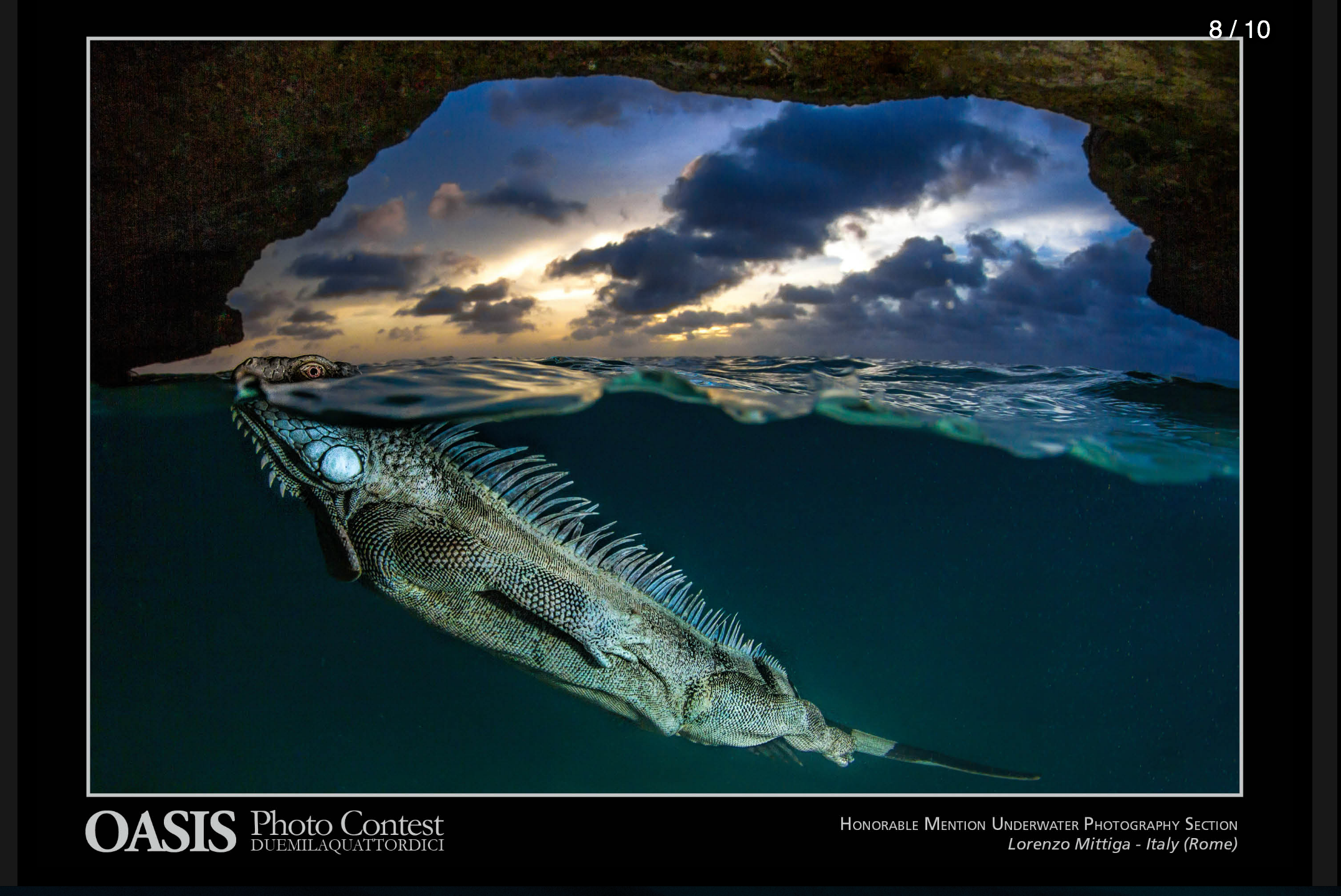 OASIS Photocontest 2014
OASIS International Photo contest 2014. Honorable Mention Underwater Section.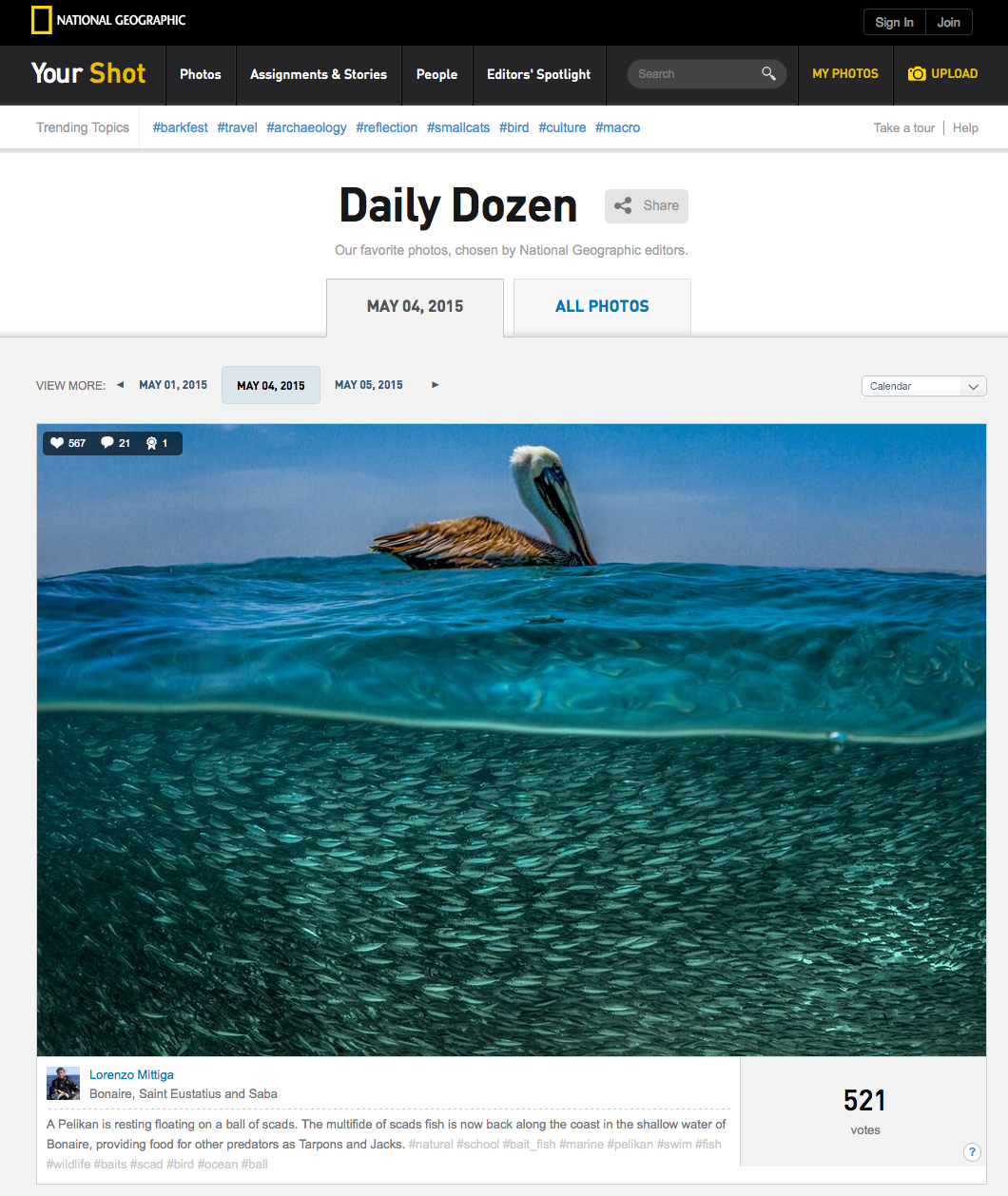 International Photo Contests 2015
HIPA 2015 Photo Contest Finalist.
World Underwater Shoot Out 2015 Finalist.
Oasis 2015 International Photo contest Finalist.
3 images awarded from National Geographic Mag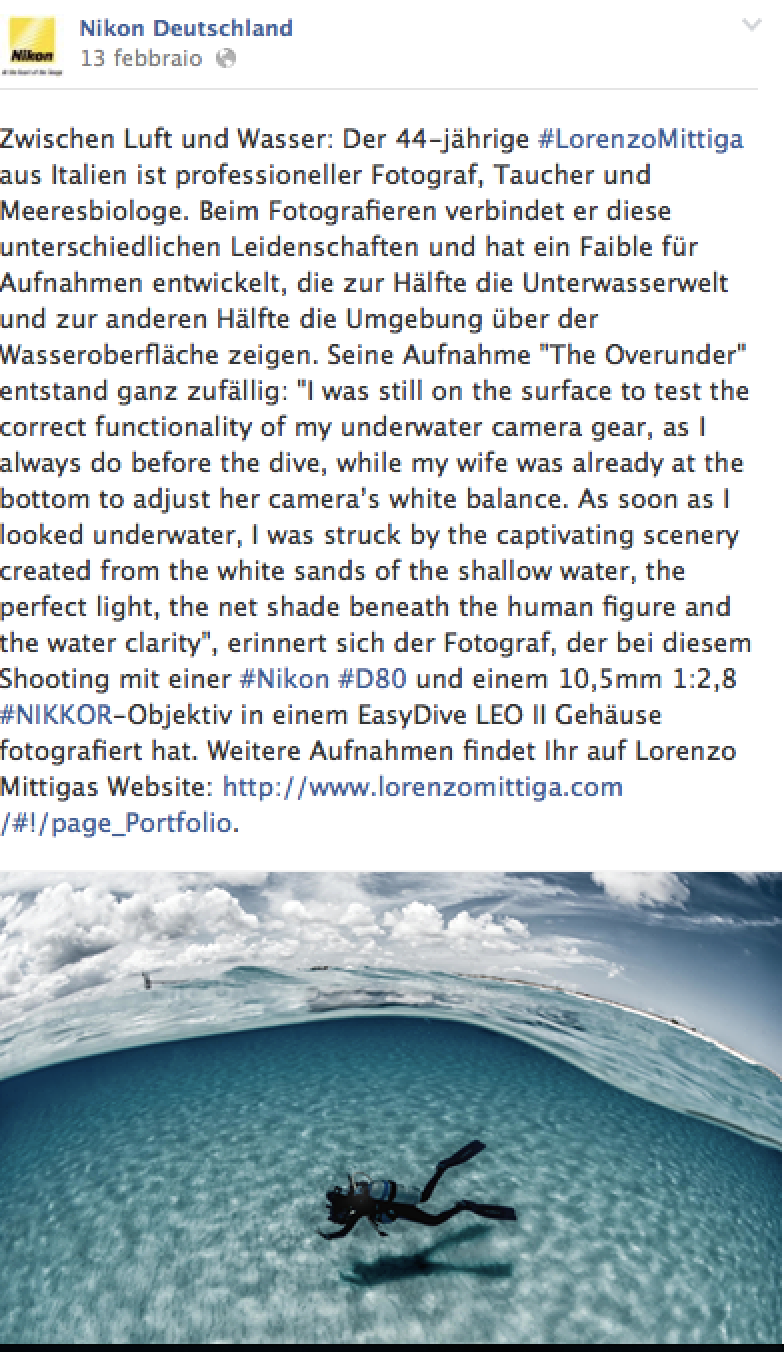 Nikon Germany
Winner of DPG underwater photo contest 2013 Wide angle category and Nikon Germany recognition.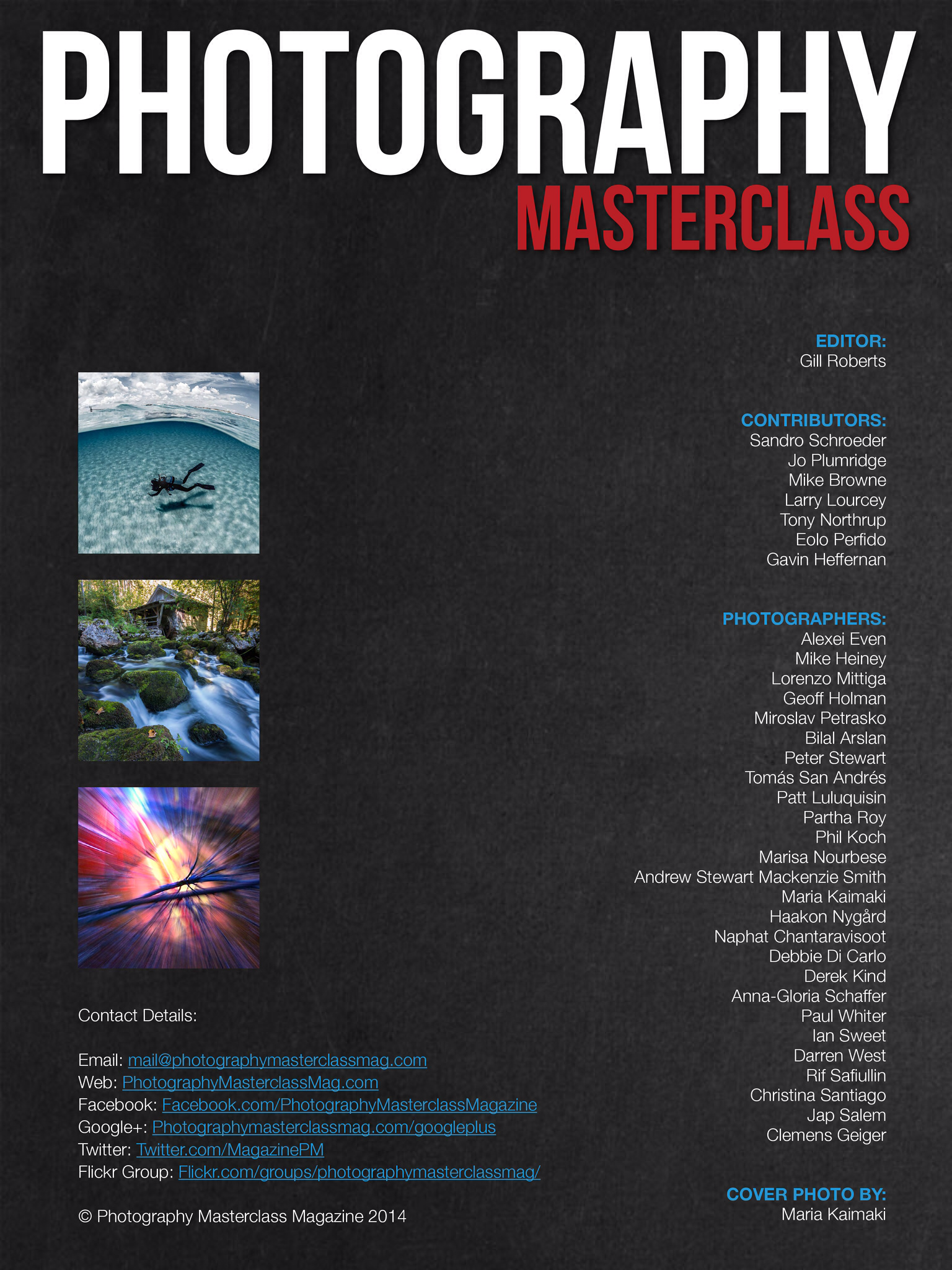 MasterClass Photography
Featured on MasterClass Photography Magazine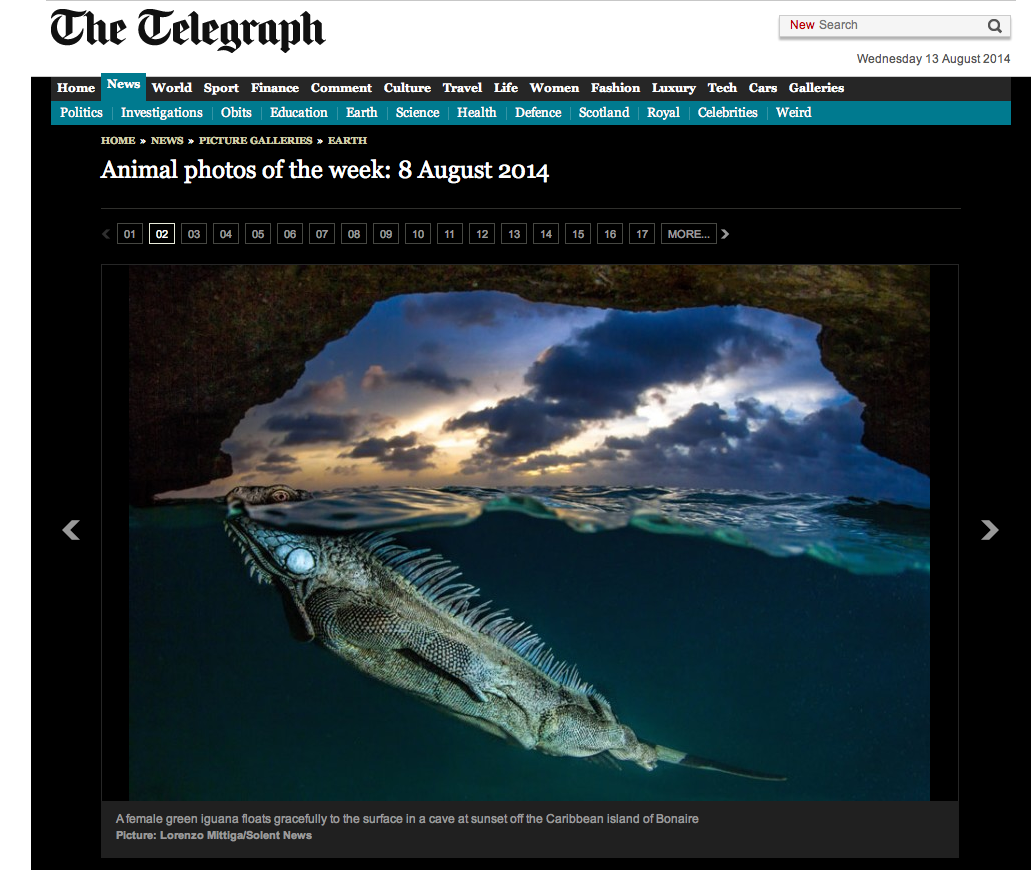 Telegraph and Times UK
Published on The Telegraph UK and The Times UK
Sport Life
Published on Sport Life (April 2016) for an article on Carlos Coste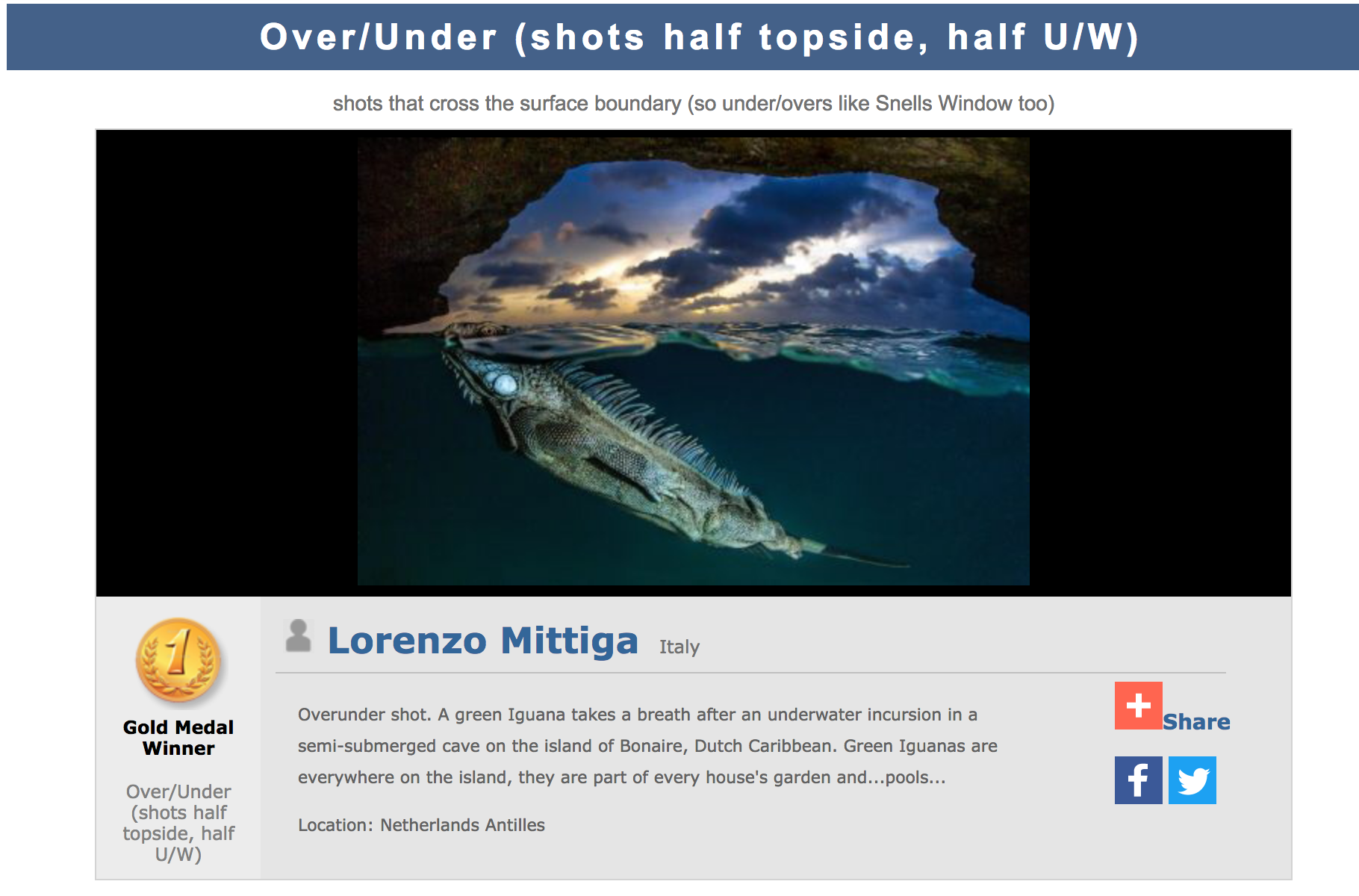 Sponsors:
Aqua Lung
Omer Sub
Nimar Underwater Housings
FlexArm Underwater Systems
Orca Torch
RGBlue Lights
Clients:
TUI -Travel and Tourism
NoveNove Surfboards
Tabou surfboards
Gaastra Sails
Cressi Sub
StarFish International
Nimar Underwater Housings
Flex Arm Underwater System
Saruni Lodges Kenya
UNEP
STINAPA Bonaire
PBS NOVA
Arcadia Production
Discovery Channel
Los Banditos Production for Universal Pictures
Forsa
Windhoek Resort Bonaire
Littman Jewlery Bonaire
Akkermann Bonaire
Patagonia Restaurant Bonaire
Sebastian Restaurant Bonaire
HomeStyle Bonaire
Van den Tweel Bonaire
Lek lek Thai food Bonaire
Rumrunners restaurant Bonaire
Captain Don Habitat Resort Bonaire
Sonia Home Italian Restaurant Bonaire
Andreina Villalobos Mermaid Academy   
Carlos Coste 2105 World Record Freediving (Deepsea Challenge)
Blue Horizons Dive Center Philadelphia (adv and 300 ft Deep Record attempt)
Blue Planet DC Philadelphia
TCB (Tourist Corporation Bonaire)
FF FutureFly Boards
Real Estates:
Qvillas
Blue View resort Bonaire
Bamboo Bali resort Bonaire
Breeze Bonaire Apartments
You& Sea resort Bonaire
Sotheby's Real Estate Aruba
Sunbelt Real Estate Bonaire
Harbourtown Real Estate Bonaire
Eco Beach Villas Bonaire
Magazines (published on):
The New York Times
China Travelers
Wired UK
The Times UK
Marie Claire Korea
XLSemanal
Rythms Monthly
Greenpeace Germany Magazine
Divers for the Environment
Mondaag news
Scuba Diving Magazine
National Geographic YS
OASIS
National Geographic Italia
National Geographic Spagna
The Smithsoninan Mag
Tierwelt (Magazine)
The Big Issue Australia
The Big Issue Japan
Il Subacqueo (Italian Undrewater magazine)
Mondo Sommerso (Italian Undrewater magazine)
Windsurfmag
World of windsurf
Windnews
Flavor 99 international
Chiiz feautered photographer
Master Photography Class feautered photographer
Bokeh Digital Photography mag (interview and feautered)
Solent News Agency for Times UK, The Telegraph UK
Barcroft Media UK
Cater News
De Telegraaf
Young & Rubicam, Italy
JP Australia
Jibe City Bonaire
Sport Diver mag
Bonaire Affair
International Marine Mammals Project (Berckley's University)
Photo shootings for Athletes and sponsors
Carlos Coste (FreeDiving World Recordman /ORIS Swiss Watch
Maxime Van Gent (World cup freestyle windsurfer/JP Australia; North Sails)
Stefano Lorioli (Italian windsurfer freestyle champion)/RRD Italia
Florian Wegerer (Dutch windsurfer freestyle champion)/
Taty Frans (Gaastra)
Antony Ruenes (Gaastra/Tabou)
Youp Shmit (NoveNove)
Florian Wegerer (StarFish Int)
Awards & recognitions:
2012 3rd place Nights edition Bonaire
2013 Winner of Nights edition photo contest Bonaire
2013 Creation earth 1st place Oceanscapes category
2013/14/15/16: National Geographic (5 image published)/ 1 image in the 20 best of 2013
2013 Nikon Germany recognition.
2013 Winner of DPG (digital photo guide) Wide angle category August
2014 Winner of Smithsonian 12th photo contest in the Natural World category
2014 Honorable Mention Oasis International Photo contest Underwater category
2015 See Mee International photo contest finalist and published
2015 HIPA International Photo contest Finalist in Natural World category
2015 Underwater World shootout grand prix 5th place wide angle category
2016 RedBull illume photo contest finalist in category Sequences
2017 UnderwaterPhotography.com Gold Medal in Overunder category
2017 Runner-up in the categorie 'Wildlife Behavior' in the 2017 Wildlifephoto Contest.
2018 RedBull illume photo contest finalist
2019 EUDI Show cat spot pro Winner
2019 National Geographic winner of "Portfolio Review".
2020 UW World shootout second placed.
2020 The Big Picture second placed.
2021 UW World shootout winner of Best five Images cat.
2021 OGPICOTY 2021 winner of (Photo Journalist Award of Excellence).
2021 Scuba Diving Magazine (Through the lens photo costest) Grand prize overall winner
2022 OGPICOTY 2022 Winner of  (Music and Pictures Award of Excellence); Runner-up in "Photo Journalist"; Honorable mention in "Fish behavior".
2o22 OGPICOTY Winner of Master of Competition.
Exhibitions:
2014 Private exhibition at Italy in the world winery, Bonaire
2015 SeeMeeExposure at Lourve Museum (digital expò of one piece), Paris
2015 Private exhibition at La Cantine, Bonaire
2016 Maison Objet design exhibition, Miami
2014 to present :On-line Gallery for Sale (ca. 20 pieces) at TwoPalmsBazaar
2017 The World Cruise ship Fort Lauderdale
2017 Spectrum Miami during Art Basel Week
2018 New York at The Big Screen, April 2018
2018 Russia city of Yekaterinburg photography exhibition  «The Children of Captain Grant» May
2019 Mexico S. Cristobal de Allende (for National Geographic)
2020 San Francisco "California Academy of Science"
All rights reserved © Lorenzo Mittiga